World's Strongest Dog Fence Wire 16 Gauge Solid Core 500' Feet WiseWire Kit
World's Strongest Dog Fence Wire 16 Gauge Solid Core 500' Feet WiseWire Kit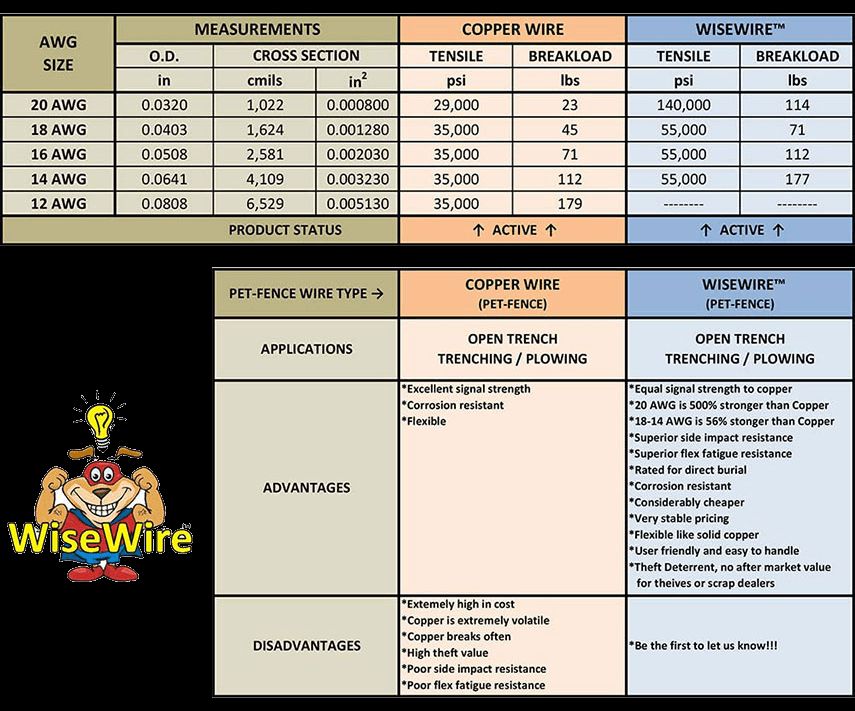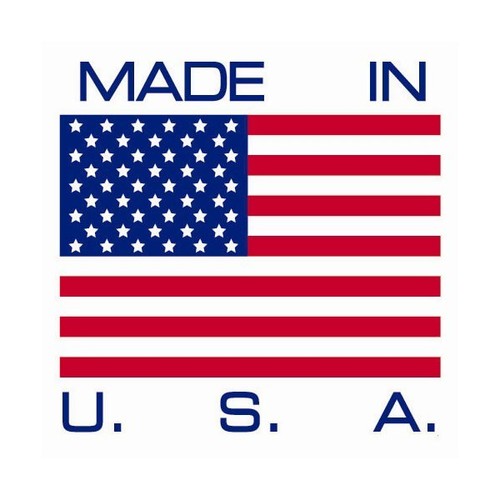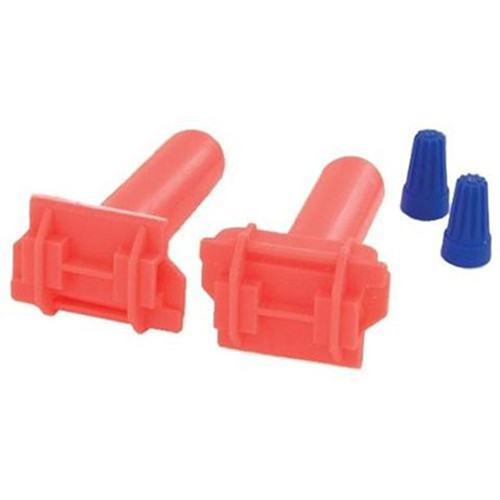 PRODUCT DESCRIPTION
WiseWire® 16 AWG PE30 is a heavy duty, high-strength, flexible, copper-clad steel wire. A custom grade steel core, metallurgically bonded with a copper cladding, that is uniform and continuous, creating a bi-metal conductor that acts as one and is corrosion resistant. Special annealing and drawing processes are performed during the cladding process to achieve desired engineered benefits of strength, flexibility, reliability and durability.
Insulation is a 45 mil, high-density, high molecular weight polyethylene (HMWPE/HDPE). WiseWire insulation is engineered to provide superior water blocking and abrasion properties against underground elements and helps prevent accidental breaks caused by rocks in shifting soil conditions, dig-ins, and corrosion.
Features:
WiseWire® 16 AWG is equal to copper in signal performance for pet containment systems. It simply outperforms copper wire in strength, reliability, and durability at a lower cost.
WiseWire® 16 AWG is 56% stronger in break load or equal to 16 AWG copper wire, minimizing damage during installation and while in service. Designed to embody the flexibility and memory of copper with great workability. For use in open-trench and plow-in installation.
WiseWire® 16 AWG provides excellent corrosion resistance and superior strength for unmatched tensile, side impact loads, and flex fatigue. RoHS compliant and works with connectors you already use.
WiseWire® 16 AWG is eco-friendly. Protecting the Earth and going green is an important factor. All materials that go into this product are fully recyclable to avoid ending up in landfills.
Box Includes
500' (1/3Acre) 16-gauge WiseWire
One Pair Splices
50 Flags
How Much Wire Do You Need?
| | |
| --- | --- |
| Acres | Feet of Wire |
| 1/3 | 500 |
| 1/2 | 700 |
| 1 | 1000 |
| 2 | 1400 |
| 3 | 1700 |
| 4 | 2000 |
| 5 | 2200 |
| 6 | 2400 |
| 7 | 2600 |
| 8 | 2800 |
| 9 | 3000 |
| 10 | 3200 |
| 12 | 3500 |
| 14 | 3700 |
| 16 | 4000 |
| 18 | 4200 |
| 20 | 4500 |
| 25 | 5000 |
About Us
We believe that people don't own pets—pets own people.
As pet lovers, everything we do is genuinely designed to make pets happy.
It's this philosophy that acts as the foundation of FDF Pet Supplies, propelling us forward as we work hard and continue to be America's favorite neighborhood pet store.
Shipping
All purchased items are normally shipped same or next business day of the cleared payment. We currently do not ship on Saturdays, Sundays or National holidays.
Please visit our shipping page for more information.
Refund Policy
If you are dissatisfied with any of our products, please contact us within 30 days for a refund or exchange. All returns require a Return Merchandise Authorization number (RMA #). Please contact us to receive your RMA # before returning any items. Due to hygienic reasons some items cannot be returned once opened. Please visit our refund policy page for more information.
Contact Us
We are committed to provide our customers with a great shipping experience and strive for your full satisfaction. In the event that you are not fully satisfied with your order, please don't hesitate to contact us and we will gladly work with you in resolving any issues.
All items listed in stock are 100% brand new and come with official authentic license tags on branded products.
We offer a 30 day satisfaction guarantee on all our items to ensure that you receive your order to your full satisfaction without any defects.
Our return policy only applies to customers residing within the United States. Unfortunately, due the expense of shipping to international destinations we are unable to extend to international customers.